My Home Studio  – Female voice over in Paris and French actress for dubbing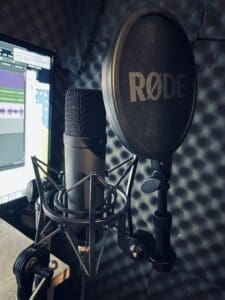 With the Internet, voice overs in a home studio are more and more requested, because of the recording ease, the rapidity of voice delivery and especially because of the possibility of working with studios and production companies around the world.
I am equipped with a Home Studio and I can propose my voice-over recordings.
Here is my voice over studio equipment:
Speak soundproofed cabin with foam acoustic
Voice-over microphone: Rode NT1
Soundcard: Focusrite Scarlett 2i2
Software : Protools
SE Electronics reflection Filter
Anti-Pop Filter
I offer professional quality sound, in the same way as a voice over studio in Paris.
Concerning delivery, it is very fast since I deliver my french voice over during day or within 24 hours maximum.
If you want to direct me at distance during my recording session, it is quite possible, via Skype. You can then listen to me live and make the necessary changes to your project since we will work together.
In addition, enjoying the showbiz worker status, I go to studios in Paris and the Ile-de-France region to do your records. Radio and TV spots, jingles, on-air design, business films, corporate films, documentaries, e-learnings, on-hold messaging. I go wherever for dubbing in studio and voice-overs. Do not hesitate to contact me for each of your projects if you are looking for a French voice online