French Voice & dubbing actress in Paris
Welcome to my website.
I am Nelly Rebibo, French voice over talent and French dubbing actress since 2005.
I discovered the voice over business in the United States.
I started out working in Los Angeles at Paramount Pictures as a marketing assistant and my position as responsible for the movie trailers management allowed me to closely measure the scope of this job. In fact, it is by managing personally voice actors' casts that I realized the impact that could have a voice on a trailer.
Back in Paris, I become radio host in a talk show on the internet for 3 years, and on this time on radio I learnt to raise my voice and work different styles.
French voice over artist and French actress in dubbing for 18 years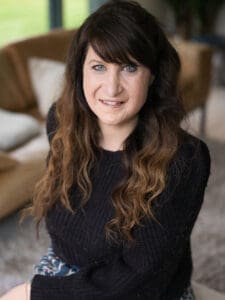 Being a true autodidact, having several years of theatre formation, I bring my personal touch to each project showing a great capacity for adaptation.
My female voice register is wide and today is very diversified because I not only offer a fresh, smiling and dynamic voice for all your productions, but also a corporate, sweet, natural, playful voice and many others styles (Radio ads, TV ads, business films, corporate reviews, e-learnings, Audiotel, DJ liners…). I also lend my voice for dubbing and French voice-over.
I am equipped with a Home Studio
Being a reactive french native voice over and professional, I am equipped with a home studio, I deliver my voice within 24 hours (with invoice) and/or go to the studio (I am voice-over in Paris and I am a show business worker).
I am forty years-old, but my voice might seem from a 6, 10, 14, 20, 35 and even 70 year-old person!
I adapt my voice to all types of characters (from little girl to grandmother) and to all kinds of texts, from the simplest to the wackiest (female voice-over).
Management of multi-voice projects in French
I also propose today to manage your multi-voice project for, for example, e-learning, dubbing or voice over recorded in a home studio. Indeed, I work in collaboration with trusted female voice-over and male voice-over colleagues, and I can coordinate the recordings and make sure that everything is done correctly, always with professional quality, as a project manager would do.
I can also do voice over in english with a french accent.
I invite you to listen to my demos and contact me for any question, request for quote or further information.
Enjoy your visit!
nellyrebibo@gmail.com
06.17.64.02.98