French voice over artist since 2005 (18 years experience)
Being all genre media follower and having a strong artistic personality, I practice since 2005 my passion for comedy on the radio, cinema and advertising through Dubbing and the voice-over.
Becoming a voice over artist, an accomplished vocation…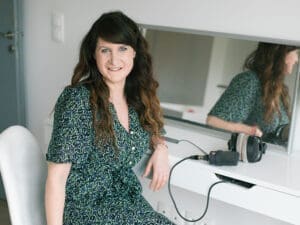 Graduated from the Business School and specialized in Marketing, I worked for 2 years in the United States at Paramount Pictures where I particularly was in charge of managing movie trailers.
It was there that I became aware of the impact and the importance of the voice in commercials, and the great care needed in a voice-over casting for all kind of visual support promotions.
Back in France, I host various radio broadcasts and it is then that my particular sound is noticed. Being self-taught at the beginning, my voice over training is constantly energized by the always higher requirements of my clients.
Making the choice to adopt a very personal style, and mostly unformatted, to become voice-over, but also voice actress (two separate talents for two full-time activities), I participate in different voice castings in Paris and today I consolidate as a well-known professional voice-over actress.
Exploiting my outgoing personality and my taste for creation, now I've found my voice signature and I am constantly working on the development of new voice categories: adult, teenager, femme fatale, young, dynamic, sexy, corporate voice, etc…
Being able to personify all types of characters, today I have the ability not only to give life to an advertising spot, a corporate film or a documentary film, but also to double film characters and make voice-over, with all the reactivity and the seriousness required by my clients.
Note that I can also do voice over in english with a french accent.
Don't hesitate to contact me if you are looking for a nice French female voice over online.